Mig and I decided to try something different on this holiday. We went to 2 Korean restaurants, both didn't seem to have English translations of their food and one was another grill place that had pictures. But we wanted other stuff. We already know where to go for Korean BBQ but there are surely other lovely dishes to try. On our third stop, they gave us a menu with more items and voila, English translation. It was funny because they don't seem to have Filipinos here very often and the lady owner had that "oh no…foreigners" on her face. We looked at their different offerings of soups, casseroles, cold noodles and even cold cuts!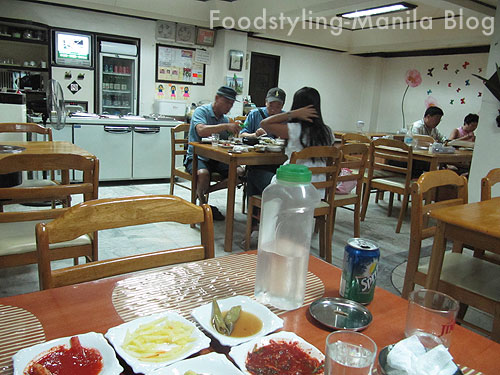 It felt like we were the first Filipinos there in a very long time and the Servers were all but too happy to have some local speaking people in their midst. Talk about being transported into another country. We went here twice and only got to order 4 items. So here's what we ordered overall:
On our first visit we had 7 kinds of ban chan: Kimchi, Eggplant omelet, Sauteed Potato sticks, Korean perilla leaf or "ggaennip" (ken-yip) kimchi was interesting, Radish kimchi was slightly sweet.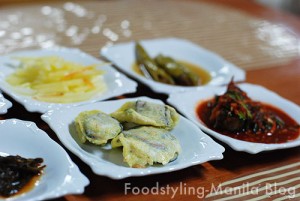 On our second visit it was broccoli with spicy ketchup, pickled radish, eggplant omelet and sautéed mung bean sprouts and some kimchi. They also gave us some green vegetable soup with chili and it had a deep seafood flavor and bits of clams.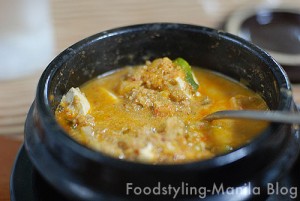 Goat soup (P300) Yeomso Tang: The goat soup had a pleasant nutty flavor. It reminded me of a mild version of kare-kare which was pretty surprising. It had a curious dip where you mix this dark colored powder with gochujang and garlic. The curious sauce plus the goat was fantastic! It was refreshing with certain spices and herbs I really couldn't identify. The goat was pleasant and soft. The soup was nutty, velvety and a bit spicy. It also had fermented soybean which added a great amount of umami to the overall flavor. It had so many wonderful textures from the cooked vegetables, the powdery dip, from those odd looking spring onions. Whatever it was, we were glad our little drive by led us here.
Chunggukjang (P250) Fermented Soybean Soup. I've always had a limit for any stinking tofu soup…the worst I've had was a Taiwanese one. The tofu soup had a screaming entry with the way that it made the room smell. It was fantastic. From smelling slightly of kimchi, the room smelled like a cheese shop. Though I thought it would be unpleasant, it wasn't. It had the same nutty and velvety soup texture as the goat soup except the flavor of the soup had an almost perfectly ripe cheese. I liked this dish, it just had a lot of tofu sediments probably also from the fermented version. It had delicious alightly sour, salty, unami and cheesy notes. For those who aren't afraid of soups that smell like socks, this is wonderful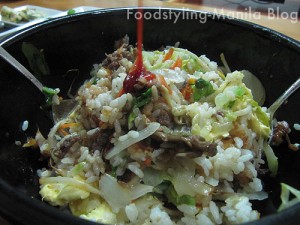 Dolsot bibimbap – a sizzling version of my childhood favorite. Bibimbap was my first introduction to Korean food in the early 90s. This one had a nice crispy bottom or what we call "tutong" in Filipino. Toppings wise, I've tasted better.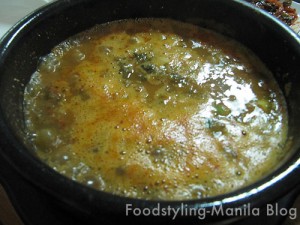 Loach soup – they do not recommend this dish to Filipinos apparently. The waitresses said it was really fishy. But we just wanted to go full foreigner and try it. We were surprised by the mild fish taste and it came with, again, a gray spice mix. It tasted like it had some nori in it. It feels like there's light soft bones, probably from the fish which is found under all that vegetable. I enjoyed the goat soup much more.
Next time we'll order the jokbal which is the pork knuckle. Though ban-chan wise and flavor can't seem to compare to our Seoul Condo fave, this is a nice alternative for soup junkies out there.