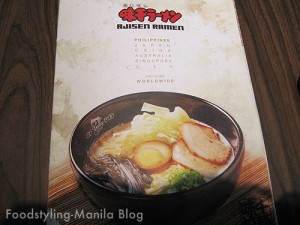 I decided to head into uncharted Greenhills territory since we've been eating in the safe usuals the past couple of days. Today we hit a pretty good jackpot which was Ajisen Ramen in a building with a lot of other Japanese restos stand. Why did we pick this place? Becasue I peered through the window and saw that a lot of people were enjoying their bowls of ramen on a rainy afternoon.
Spicy Ramen
This is basically an Ajisen ramen served with their spicy pork. I first tasted their broth and it had a surprisingly milky flavor aside from the light but delightful meaty taste it had. The spicy pork is really spicy and had a very good chili pepper flavor…almost smokey but really spicy at the same time. The BBQ pork is very tender but full of a very buttery pork flavor, it was melt-in your mouth fat heaven. The egg and seaweeds also complemented the dish and gave it different tastes and textures with every sip and bite. The ramen was very firm and tasted very fresh, I loved its texture.
Tan Tan Mien
As you can see, I have a thing for this dish…when I see it in a restaurant, I want to order it. Dry noodle with spicy pork and Ajisen sauce. It had very good layers of flavor, the noodles were firm and the sauce made it slick and slippery in your mouth and it as delightful. I loved the balance of sweet, salty and unami and the texture of the pork and tofu was outstanding.
Yuzu Juice
Japanese citrus juice. Yuzu here was quite sweet and lacks sourness. The juice is very light and refreshing. There is a very slight bitterness from the rind. It started to grow on me after a few sips.
I really enjoyed my time at Ajisen Ramen. Hopefully we'll be back for more of their other items.
Ajisen Ramen is in Northeast Square Connecticut Street in Greenhills.