We decided to skip our usual Mien San craving to try out something new. Yen Yen Taiwanese Street Food has been in Gilmore for a few years now and we still haven't tried it so Mig and I went there. Their menu show an interesting assortment of cold cuts, noodles, rice toppings and other dishes. Food is quite affordable but that's because they are pretty much snack sized. The pictures looked so good too bad the food that I picked wasn't available (pork knuckle) so I went for something else. So this is what we had: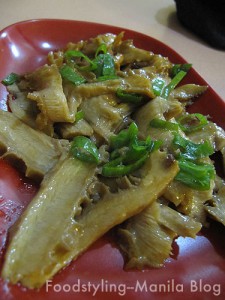 Adobo goto – this is basically a flavored tripe. The tripe was lightly flavored with soy sauce and is quite tender. Bordering on bland but seems to be good with alcohol. Sweet and salty taste plus soft-chewy texture.
Spicy wanton – silky mouth feel but it wasn't hot at all and had a light soy broth sauce. I found this a bit bland since my peg of great Spicy Wanton was in Mien San.
Cha chang noodle – was again, a bit bland. I guess I expected the noodles to have a good garlic flavor like the Cha Chiang noodles I am used to. This one had soyed tofu and cucumbers. Textures were good. The noodles were very good and felt almost fresh. I'm just not quite sure if there was black bean in there as in the tradiational Ja Jiang Mien.

Pork chop rice meal – The pork chop was very tasty and was covered in an interesting crust. It was crunchy outside and chewy and juicy in the middle. I like this one because it was properly salted. This was Mig's dish though.
Adobo ears – were nice, chewy and gelatinous. Again the sauce was quite light. I think the sauce might have been made with soy sauce, sugar…and maybe some oyster sauce?
Though I have never tried Taiwanese street food for myself, I found Yen Yen relied too much on their base sauces and didn't really add much spices to their food. Maybe we can try ordering other stuff next time.
Yen Yen Taiwanese Street Food is in 96 Granada St. (Gilmore Ave.) Quezon City, Philippines