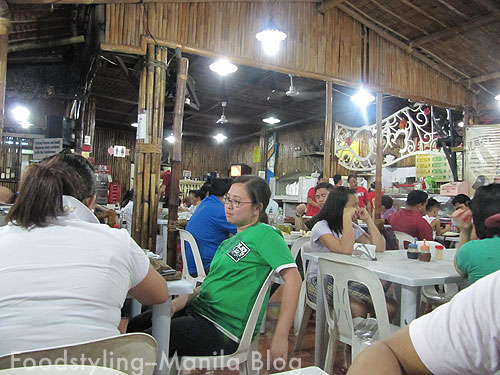 Since we were too lazy to cook something, we decided to go to R&J Bulalohan in Mandaluyong because it was early and we thought that the place wouldn't be as packed…WRONG…it was packed. At 6:30pm, it seemed that dinner started more than an hour ago and people were just walking slowly into the restaurant looking for seats. Known for it's batangas bulalo, R&J also has become a known place to drink. There were a lot of people drinking on a Saturday night (and it's not even dinner time yet!). The vibe is basically a bamboo hut tucked at the side of the road, what's interestig is that it's full of people actively eating.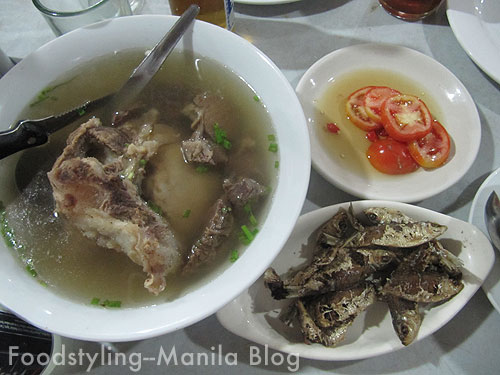 We ordered Barato 2 Meal (P299) since it looked like it had a good variety of food without us having to over-order. The meal included a Bulalo Regular, Fried Tawilis with Tomatoes, 2 Rice and 2 Iced Teas.
Because R&J is also known for their other soups, I went for a Papaitang Kambing or translated to english…Bitter, Goat Entrails Soup…this was something Andrew Zimmern missed in the Philippines…and Bourdain too. Also, I got caught up in the drinking vibe so I couldn't help but order my new found favorite — Tanduay Ice! Here's what we had:
Bulalo regular -The broth was fairly regular with a big piece of bulalo, of course with the beef taste (and beef bouillon). Broth was very clear and bone was very big. There were 3 pieces of lose meat and the rest was stuck to the bone. Broth was light an tasty and perfect with my calamansi-sili-patis dip.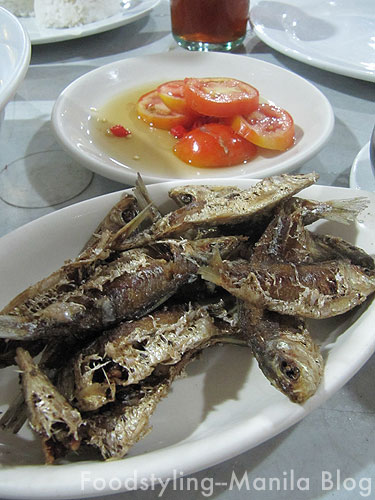 Fried tawilis with kamatis – This was a joy with rice: the tawilis was crisp outside and soft inside. The salting was perfect and the fish was smokey and was very good with rice (Mig and I ended up ordering another cup of rice for the fish!). The tomatoes were swimming in fish sauce, a sight I only usually see in the provinces. This was the highlight of my meal (and maybe the papaitan too!)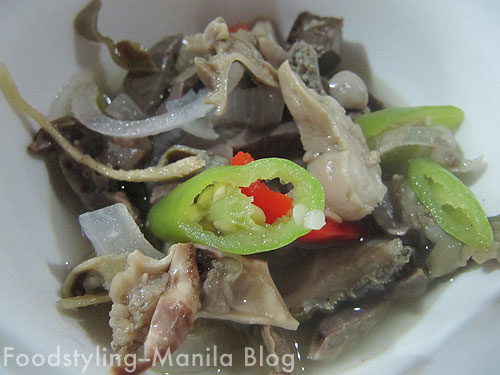 Papaitan kambing (P80) – a separate order, the papaitan as it's name means is quite bitter and has quite a gamey flavor because of the innards used (goat!) I added a bit of vinegar to mine just to cut the bitterness. The broth was light and tasted of the goat innards and beef. The innards reminded me of a horror flick since they came in a mix of green and light gray. But it was delightful and I loved it.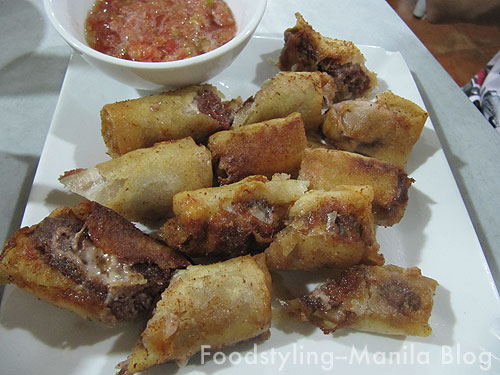 Beef Taquitos with a Salsa Dip – This was a pleasant surprise since our student saw us and handed us a plate of this very tasty ground beef pieces. I guess this is more of something people would order with drinks. It tasted very mexican (the cumin, onions and garlic) and had some melted cheese inside it. It was crisp on the outside because of the lumpia wrapper and soft and flavorful and full of beef and cheese on the inside. The salsa reminded me of a sarsiadong kamatis, except this had Mexican flavors. It was very good with my Tanduay Ice.
I can really see why this place was really packed. The food is very affordable and has a "home cooked" feel despite the amount of people being served! This is also a place that might interest foreigners to see how locals really drink and talk…and it makes you forget that you're in the city.
R&J Bulalohan is in Bonifacio Ave. Mandaluyong City, Metro Manila Philippines, by the Mandaluyong Circle.