Coming down from Tagaytay, I made sure I grabbed a bottle of carabao milk and a couple of boxes of Mr. Moo Carabao Kesong Puti (or Carabao white cheese, literally). A week later, I was craving for a light and tasty snack…and found out that my other boxes of kesong puti had gone missing except for one. I opened the box and tried it raw…it tasted quite bitter (I am still hoping to find a filipino version of Bocconcini).
Instead of the usual, pandesal and kesong puti, I found some nice cherry tomatoes in the fridge as well as a very good bottle of Arbequina Olive Oil (a vintage! mind you) from my last trip to the Torres Wineries in Catalonia.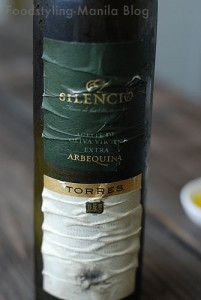 I first tasted the olive oil and it wasn't the usual peppery, strong tasting oil I have come to know…it was quite buttery, subtle but had a very good olive flavor. Arbequina is mostly found in the Catalonia region of Spain.
Here is a great recipe that you can duplicate to make as good hors d-ouvres for your guests or a great and healthy snack for adults and kids alike:
Kesong Puti & Cherry Tomato "Bruschetta"
1 block Mr. Moo Carabao Kesong Puti (yes, I like Mr. Moo Carabao kesong puti because of it's creaminess without having that gamey taste)
4-5 pieces cherry tomatoes, sliced (numbers depend on the size of the cherry tomato available)…normal tomatoes will also work
fresh basil
2-3 cloves of garlic (whole please)
a few drops of very good olive oil
rock salt
pepper
5-6 pcs pandesal, cut in half lengthwise (for this recipe, I used whole wheat pandesal which was fairly large)
1. In an oven toaster, lightly toast the pandesal pieces until the surface becomes a little crusty and firm. Remove from the toaster and set aside to cool for handling.
2. Rub the clove of garlic all over the surface and bottom of the pandesal.
3. Lay the pieces of kesong puti on the surface of the pandesal.
4. Arrange a few pieces of sliced tomatoes on top of the kesong puti.
5. Put them back in the toaster and toast until the kesong puti begins to slightly soften and melt.
6. Remove from the oven and arrange on a plate. Drizzle with olive oil and top with salt, pepper and a leaf of basil on each piece of bread.
I love the flavor of this very simple snack: You can taste the garlic, the sweetness of the tomato and the creamy saltiness of the cheese. The olive oil and salt both enhance the flavor and give a very Italian feel to it despite using mostly local products on this dish. It only took me 20 minutes to prepare everything and it looked pretty classy too.