I was doing some crisper emptying when I thought about making some soup for lunch since I had such a heavy meal the night before. I found some leeks, carrots, onions in the fridge and a bacon rasher. I was thinking of my cousin's "all-veggie" diet but of course, putting the bacon rasher in was optional, but I did it anyway. This soup is pretty chunky and is good enough for even kiddies to eat. The wood spices add a surprising flavor that reminds me of Christmas.
Carrot and Leek Soup
1 tbsp olive oil
2 tbsp butter
1/4 cup onions, finely chopped
1/4 cup celery, finely chopped
2 bacon rashers (optional if you want to go all-veggie)
2 cups grated carrots, packed
1/2 cup onion leeks, finely chopped
1/4 or 1/2 cup cream (if you like it creamier, go for 1/2 cup or more)
1/4 tsp cinnamon
1/8 tsp nutmeg
pinch allspice
1 1/2 cups water
1/2 tsp salt (or more to taste)
1 tbsp honey
pepper
immersion mixer or a blender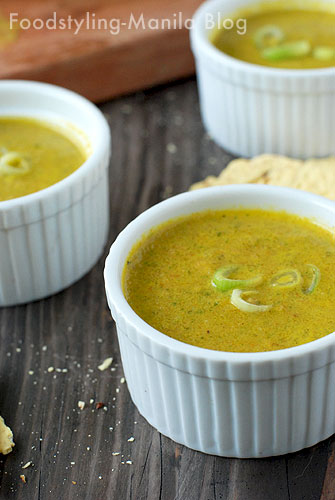 1. In a big pot, over medium heat, saute the onion and bacon until onions turn translucent. Add the celery, leeks and carrots.
2. Keep cooking until the vegetables begin to wilt and you will find a bit of browning on the sides of the pot and on some of the vegetables. Then add the water and some salt and pepper. Let the mixture simmer for a 10-15 minutes. Add the cream and the cinnamon, nutmeg, allspice and the honey, simmer for a minute and remove from the fire.
3. If you're using a blender, you will have to transfer the mixture to a blender and blend it all together to your desired consistency. I used an immersion hand blender which is easier, I just took the pot off the fire and put in the immersion blender and it did the job. I tasted this prior to serving, you can adjust the salt, pepper and spices if you want.
4. Serve with bread or crackers (I ran out of bread so I had to make do with the crackers).