I was hungry for some hole-in-the-wall Persian food and I quickly thought: Shawarma Snack Center!!! Despite it being all the way in Manila, I think it was worth the journey since I couldn't resist salivating over the thought of their pita fluffing up during grilling as well as the smell of a freshly grilled kebab. Sorry guys, I'm sure the shawarma's good here, but I skipped that and went for bigger stuff.
We got there at 2pm and there were a lot of middle eastern people eating, almost 80% of them ordered this half chicken sitting on top of their Arabic rice. No we didn't have the chicken, but we went for the Arabic Rice. Here's what we ordered:
Mix BbQ (p195)
Lamb had a little livery taste at first bite into it.  But you can really taste the lemon in their marinade. Everything was tender and a little smokey. The beef kebab was just heavenly, it had the nice mouthfeel of butter and tender beef. My least favorite was the chicken because it was a bit dry compared to the other 2 sticks we had. This platter came with a red onion salad which was delightful and yet strong tasting. Perfect flavors that went with meat. Pita was of course, amazing. Tender, smokey with an almost semi-elastic texture, it was firm and fluffy at the same time .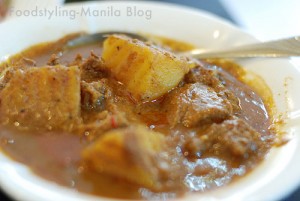 Spicy Qurma Beef – very good stew with some tomato and a very strong spice flavor. It is a meal in itself because of the potatoes. The beef was pretty firm but the potatoes were cooked perfectly, this went well with pita bread or maybe a cup of plain rice…it was a little overwhelming with the Arabic Rice we ordered.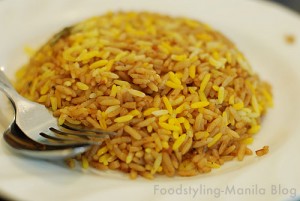 Arabic Fried Rice was fragrant and doused with a lot of interesting herbs. Turmeric and other stuff I couldn't pinpoint, and it almost stank and smelled like a closed cannister of wood spices. I'm sure it would be really great with that half chicken we didn't order that everyone else was ordering (next time, we'll eat this!)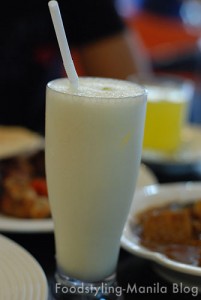 Yogurt shake (65) Even if their yogurt shake promised the fact that they're yogurt was homemade, I'm not quite sure if it really was since it had that distinct Nestle yogurt flavor. Still, it was a good balance of sweet since I had told them to make mine not too sweet.
Hot sauce was nice and thick. It was very spicy with a slight sourness.Garlic sauce was light and creamy with a good garlic flavor.
Veggie platter – this was a plate of their homemade pickles, hummus, mutabal and yogurt and deep fried legume balls (or felafel) which I enjoyed very much. This would definitely be better if we were in a group since it was basically a tasting of a lot of things in one platter.
I love this place and I've been eating here for years, but I have yet to be back to write about the shawarma and that curious chicken. 4 huge dishes, 3 pita breads and 2 drinks later? Our bill was very cheap, it was only about P700…and we totally ate like dinosaurs! I definitely suggest coming here with more friends so that you can order lots more and have lovely tastings.
Shawarma Snack Center is in Salas Street near the New Hyatt Hotel and Casino in Malate. No we don't eat in the highly decorated place, we ate in the SSC that was sitting right across that looked like a canteen.