As far as I can remember, we've always had copper kitchenware at home. If there was something my mom and dad enjoyed together, it was the love of antiques, and in this case…love of copper. In Western cookery, copper was always the best choice for cookware because it had the highest conductivity…everything cooked quickly and is still one of the best vessels to whip your cream in.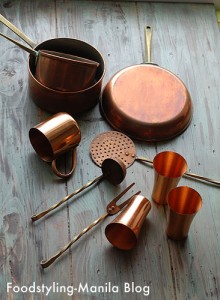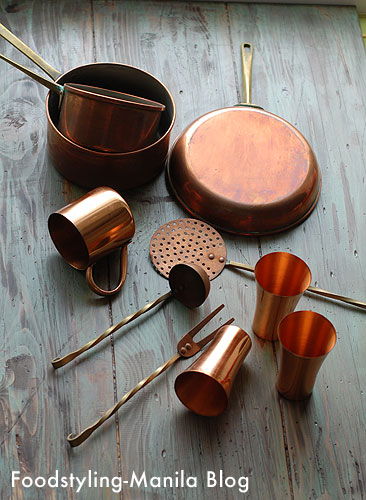 Make sure you're using real copper cookware: ones that are lined with thin stainless steel or other metals, because using unlined copper cookware is generally a health risk. But they are sooo good to look at that who wouldn't want something like those in your kitchen. These days you can get copper bottomed pans…those let you enjoy the conductivity of the copper without the hefty price tag.
I've been reading up and practicing my styling lately and I am trying to make an inventory of all my stuff so I decided to take a photo of an all copper set up, just so I can also show my potential clients that we can use these in future shoots if the theme calls for it. Right now I am stuck on this book, Styling for Entertaining, which has several exercises that I can apply to my work as a food stylist. So I guess this can be one of the steps, which is part of collecting photos of the items I have and I like.
I love the look of copper when you shoot it…the color, the shine (or the non-shine) give a photo a certain "farm" character. Shiny and clean copper can also give off "rich" or modern vibes depending on the vessel's shape.