Finally, a little room to breathe. The stall is starting to do well and I have already made friends with some soon-to-be regulars. So far, my people in the stall are starting to get used to the system and I've been able to spruce up the overall look of the stall down to the price tags. It's a lot of work especially when the mall wants a certain unique aura for your stall aside from being a new part of the supermarket. We're having a meeting today, to hopefully finalize another pet project, I sat down to eat lunch and relax a little.
I feel like my blog has become a unknowing catalog of our restaurant's food. Honestly, I didn't think it would turn out this way, but what can I do. Lately I've been only getting to record my daily grub and where else would I be eating but at work? :p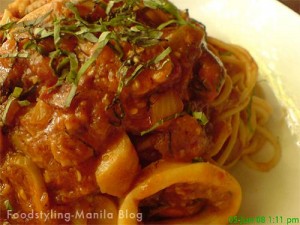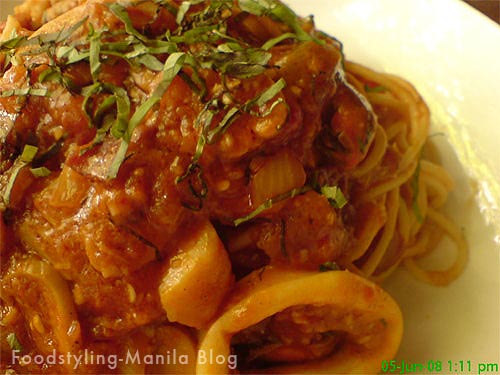 Today's grub.
Spaghetti with Angry Sauce. As far as I can remember, this has always been one of my favorites. Taking a break from my usual Filipino fare, I wanted to eat some pasta since I've been drooling over our food for sale at the stall. Spaghetti with Angry Sauce is a crazy version of marinara and puttanesca. It has pieces of fish, clams, mussels, salami, roasted bell peppers, chiffonade of basil, shrimps mixed in with some homemade salsa pomodorro (tomato sauce).
The reason why it's called angry is that the extra touch of cayenne pepper, paprika bilbao and a few dashes of alcohol give the sauce an extra smokey, bold and spicy finish. I had to stop and breathe out for a while during my meal but it was a welcome zing.
Together with my pasta, I ate our house bread which we fondly call "lavosh", but it's really not much like the real lavosh of Jesus' time. It's soft and has a pleasant taste of leeks, and it goes well with our house bread dip called "zatar" which is made up of olive oil and an entire bunch of secret spices and herbs.
I washed all that down with our homebrewed iced tea.
Anyway, Im about to leave for a meeting with some people who want to set up a secret restaurant. Hopefully things push through. 🙂