Because we always have a minor pickle with the staff at Ford, eating a good meal is always a must whenever we take the car to the service center. It's a good thing Bonifacio stopover is within walking distance of both Ford Taguig and St. Luke's and they have a lot of food choices.
I was excited to see what they had a Genki, originally, I thought it was conveyor belt sushi place but it is actually a cute high tech cafe that serves up sushi, sashimi and some other japanese favorites using a small bullet train.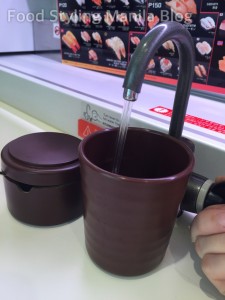 Before you sit down, you will notice that they have a a faucet in each of the tables which has hot water because the green tea is a make your own. Gari (pickled ginger) is also unlimited to help cleanse your palate from one sushi to the next.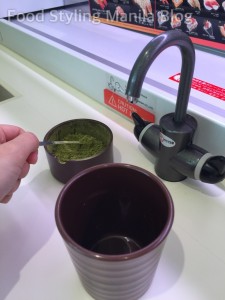 They also have a small screen where you can plug your orders based on their menu which is located inside the mini train's wall. The place was packed and there were a lot of kids which would naturally happen because kids looove cute interactive restaurants, and this is definitely one of them.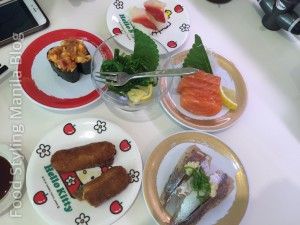 We had a LOT to eat since servings only come in twos for sushi and fours for sashimi, be ready to use up extra cash!
Sushi. What I noticed first and foremost was that all their sushi have loosely packed rice, it might be because it is premolded and their assembly line in the kitchen requires them to do things a little hurriedly like machines to ensure that orders get to their tables quickly.
Crab salad sushi – 2 pieces and it was okay, nothing to really write home about.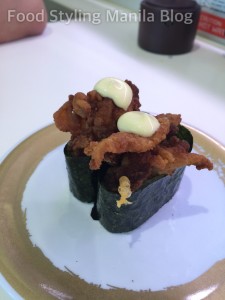 Fried Chicken – meant to be eaten in one pop or else you don't get the full experience. The chicken tastes peppered and fried to a crisp with a little jap mayo on top for a creamy finish.
Spicy tuna sushi – it was pretty okay with a slightly spicy tuna mixed with a soy and some japanese mayo.
Black sugar fried tofu skin – this is served cold and the sweet tofu skin is slightly smokey. I'm not sure I'll order this again but I'm glad I tried it.
Nigiri. Nigiris are made like the fish was literally just placed on top, with no packing involved.
Surf clam – good texture but hardly any flavor. This was okay.
Seared Salmon with Pollock roe – I enjoyed this one because it had a very smokey flavor and it was fatty too with a delicate taste. This was part of their menu recommendations.
Horse Mackerel – if you eat saba sushi, this has a fattier flavor than that and it is less pickled.
Salmon Sashimi – the sashimi was beautiful and fresh. There are only 4 slices but they were chunky. I enjoyed these.
Seaweed salad – the seaweed salad was delightful, there was absolutely no fishy taste.
Desserts:
Rare Japanese cheesecake – this is no-bake rich cheesecake with an upfront flavor of butter, vanilla and a hint of coconut. They said it came from Japan and has a thin crumb crust at the bottom. I liked the taste and textures.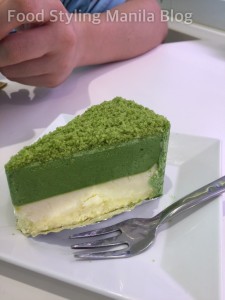 Matcha Double Fromage – i think this cake is from a local Japanese bakery. You have a regular cheese cake at the bottom and green tea ice cream on top? Since the cake was frozen it felt like ice cream. It has a delicate matcha flavor but the texture for this cake is much like ice cream.
Overall I would like to go back to Genki to try their other dishes, I would probably skip the "so-so" items and most of what we have already ordered during this visit. It's a fun place for people who would like to try something different.