I've been such a delinquent blogger the past few months, and I've been going around so many places I haven't been able to keep up because of my bakery and jobs. Anyway hopefully these next few weeks, I'm back to regular posting…or semi-regular.
My mom celebrated her birthday in Kimpura this year. This was actually my first time in Kimpura since my grand-uncle used to take us all the way to the Grand Diamond hotel for teppanyaki. The place was packed and we needed to wait a bit for a table. Here were the best things I had in that dinner:
We first ordered some sushi and sashimi from their cold selection. We had the shrimp sashimi…it was very sweet and crisp! I could totally finish more than 4 but I think these shrimps were pricey!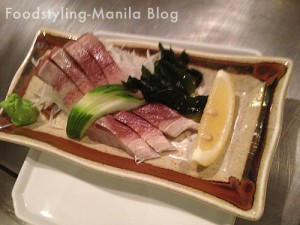 We also had some hamachi…another favorite of mine. Hamachi is yellow tail…it has a very creamy and fatty flesh. Almost eating a piece of butter with the texture of tuna.
We also had a special maki with unagi on top. I didn't get the name of this but it was pretty good too…but it couldn't compare to the 2 kinds of sashimi we had previously.
We ordered the black angus for the teppanyaki. The chef skillfully cut and cooked the meat to the doneness that we liked. Mine was just a bit under medium rare which i loved. The meat was so buttery and delightful!
It was tender and didn't need much seasoning at all. I ate mine plain without sauce. It was awesome.
From the drippings of the steak, we had the fried rice. They also used some of the steak fat to cook it. This was really buttery and addictive. It had some vegetables, seasoning and eggs, which went well with the other things we ordered aside from the meat (like the tempura, and the fish)…still the steak and the rice were the top 2 things I could remember for this dinner.
I've missed out on a really great place near my home. I'm sure to be eating here again soon. 🙂