When I got my iPad, I tried to use it for blogging…major fail…the pictures sucked..today, I am pleasantly surprised with the wonderful quality of the photos on the 4S as well as my lovely dinner with the girls at the Kombini Store in Annapolis, Greenhills.
I've heard about Kombini from my brother, and since I invited some of my friends to dinner, I wanted to try something new (yeah we always end up in Cafe Ysabel)…but anyway, today was Kombini day, and I haven't seen them in a while, I was up for some great catching up. Kombini store is a tiny Japanese grocery that also has a small restaurant that serves a few types of food like 2 types of sushi, lots of little fried stuff, some yakitori and ramen. It's a bit pricier compares to moshi koshi but I think their ramen must be different since they do have different types. So I went for the Tonkotsu since Ange was talking about that for a long time and I got really curious.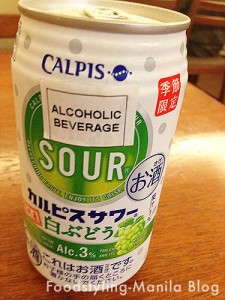 Calpis Sour – vodka and charcoal filtered water.Love the grape flavor on this, I didn't even get tipsy. It was like a lite fragrant yogurt-like drink. This is probably one of the best alcoholic drinks I've had in a can that didn't require the alcoholic "acquired" taste, you can probably make a kid drink this and they would not know the difference between alcoholic and non-alcoholic (of course that is hypothetically!)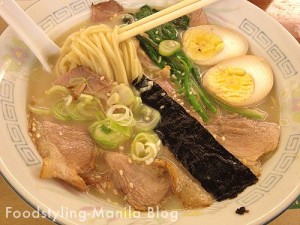 Tonkotsu – deep flavor of pork, love the ramen was okay not as chewy as I would want. The broth is creamy and white, and I just loved scooping it up with everything else. The sesame seed added a hint of flavor and texture to each bite. The pork wasn't super tender, but it was tender enough.
Beef Pita Pan – I was really curious about this, it looked like a ciabatta sliced in two and stuffed with some marinated, roasted beef. I loved the beef. It was smokey and just had a delicate soy flavor with some mirin probably. It also had a layer of nice and yellowish Japanese mayo…ah, it was just wonderful! Even my friends enjoyed it!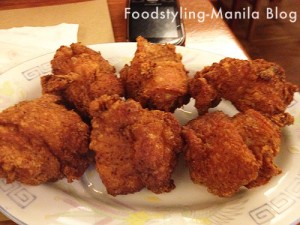 Chicken – my friend, Justin ordered this, it was a peppered chicken had a strong taste of black pepper and spices. Slightly smokey,the skin had a wonderful crust, a spicy crust! But it was a little dry for me since it didn't have sauce and because I probably took the white meat part.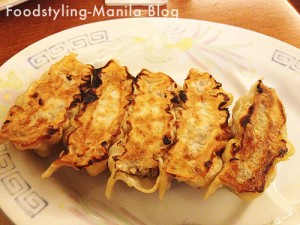 Gyoza – The filling and sauce were pretty good. Wrapper was delicate with okay crusting, filling was generous and moist. Still, this was not the best gyoza I guess, but it was pretty good.
For dessert we moved next door. But I loved the way Kombini was nice and intimate, we spent dinner there until they closed at 9 and moved next door for some dessert. As for my iPhone blogging, it looks like I'm going to do this a lot. I think I can finally stop lugging my camera around and awkwardly take pictures of the food in front of everyone. Good bye, giant bag!  Super excited!