We couldn't resist the pretty, pastel blue, teal white and light monochromatic tones of this place. As you enter, there's this cute patch of "grass" that welcomes you with all sorts of little cats and lamps on the floor. It was certainly inviting enough to make us want to stay even past their closing time. There was good music, nice, comfy seats like a cross of Starbucks with a Mac store and maybe Martha Stewart Shop. I already see a yogurt machine inside the bar but it's still not working. Since they are still on dry run, other stuff like food, yogurt and whatever else they will be offering will come after their grand opening. They only had teas at the time…so here's what we had: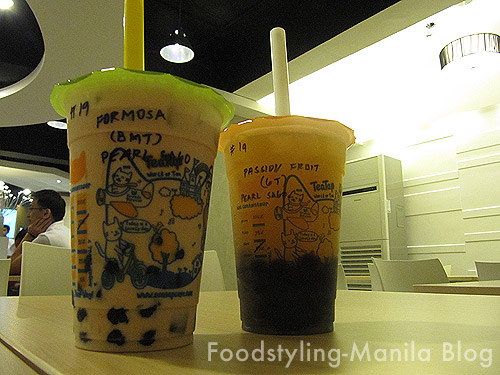 Passionfruit Tea 50% sugar with Pearl and Green Tea base
Interesting you can really taste the green tea and it's slight bitterness with the passionfruit juice. This one actually has some getting used to until it starts to grow on you…maybe one way to describe the flavors which is light, slightly bitter from the green tea with that passionfruit flavor (not puree), and a bit fragrant…organic.
Formosa Black Milk Tea with 75% Sugar and Pearl
Has a good tea flavor. For me, the tea flavor is better than Cha time, slightly less than Serenitea. The pearls are not as sweet which may be a plus to older people, but I'm not sure with a younger crowd. I can't really say if this is better than my favorite, Serenitea, I would have to do a side by side for that. But so far, I think Serenitea still packs a slightly stronger tea flavor in this milk tea..I can't really say until I've tasted them side by side.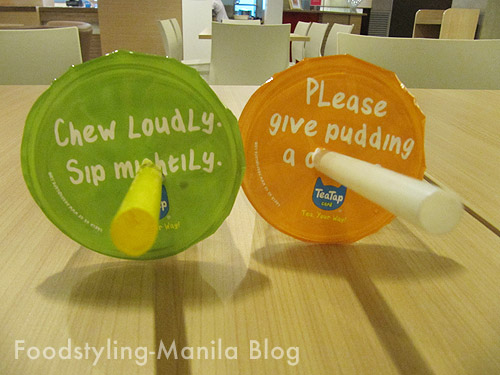 If they pursue the yogurt they are the 3rd place in the Wilson general area to build a yogurt place and the 4th to open a tea place, except there is one big difference with this place and the rest of the yogurt and tea places in Wilson…the ambiance. This place is cozy and nicely little long talks, seriously relaxing music and the fresh scent of tea and a newly constructed place. I love the decor, the modern-minimalist slash animated interiors. I was sitting here feeling sad that there was no dessert since this was definitely my type of place to hang out and have my cup of tea vs the line-your-butt up in the other place which has driven me away several times from hanging out in their space.
Tea Tap is not only a place to drink tea, but it looks like a lot of people could be enjoying the place with some friends, a good book or even an iPad. It is pretty refreshing to have a tea place that actually sells the experience and not only their product, which is something we're not quite used to here in the Wilson area due to the crampt store spaces, this place is like a Starbucks of teas…inviting, clean and relaxing.