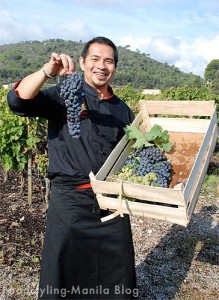 I wrote this last November 2007 after my wine tour of the Torres vineyards in Spain. Just thought it might be nice to post it here.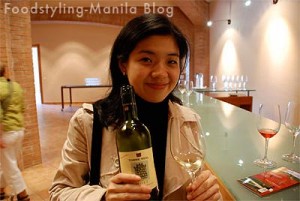 Honestly, I really didn't think this trip would push through. My dad was talking about it a little at the start of the year, and unlike my other trips, it only really occurred to me that I was really going about 2 days before our flight. Just lucky, I guess.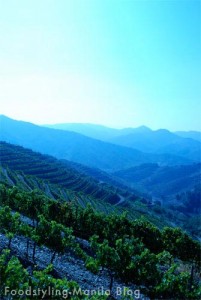 Torres Winery and Visitor's Center
Penedes is about an hour's drive from Barcelona. Pacs is the main visitor's center of the Torres winery. Apparently, a lot of people, including children come to Torres to take this tour and so they built a visitor's center; which gives tours in different languages everyday. Little did I know that our tour would be different, thanks to the ATR people who planned our exclusive and extensive behind-the-scenes journey.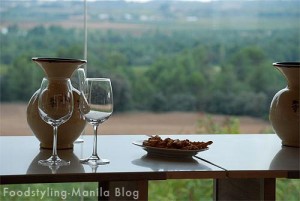 So we entered the vineyards, sprawling with rows and rows of grapevines. A huge grape press marks the entrance of the Torres' visitor's center. We got down from the car, shot a few entrance spiels (yes, we were also shooting an episode of Gene's Cuisine and Gourmet Everyday in the vineyard) and Josephine, our personal guide took us to an AVP room for an introduction video about the Torres Winery. The video gave us a summary about the winery's history, wine-making methods and products of Torres. After that introduction, we were led to the "Tunnel of Seasons" where we were treated to an AVP and sensory experience of the different seasons in wine-making. Yes the room smelled like smoke, grapes, the vineyards and wine as the video showed it. After that, our own personal tram picked us up (it was probably made for 30 people and there were only 4 of us riding) to take us to the vineyards.
The land of Torres spanned as far as the eye could see, and of course, the sky was bluer than the one we have here in Manila. The winery was a combination of the old methods and modernized winemaking. We could clearly see that in the old structures like the cellars that the company still uses until now, to the new stainless steel fermentation vats and presses. We entered the cellars where they oak their wines and we were greeted by dark halls of barrels. It kind of reminded me of the bomb shelters you see at the movies. The place was dark, cold and quiet and the barrels lay there, filled with these fabulous wines, aging gracefully (not all wines though are oaked, some go straight to the bottle after they are fermented and some people like it that way)
At the end, we were led to a very nice room, Reserva Real. This modern room was the sweetest smelling in the cellar and it had new barrels. Apparently, the king of Spain really likes this blend and it used to be quite exclusive, but these days, you can now get a fabulous bottle of Reserva Real for about 100 Euros. On the way out, we see the cellars where Mas La Plana is kept. Now this was my first favorite wine, when I tried it a few years ago when my dad opened a bottle of 97 at a dinner. I didn't know what good wine was at the time, but I knew I liked that.
Walking around the lot, we see a huge building: the laboratory. The work of the lab doesn't stop at culturing grapes and quality control, they make the soul of wines. These people must have the greatest sense of smell because these wine chemists do a lot of smelling to develop a certain wine's bouquet (yes, that is the scent of wine) aside from its taste. Torres is a real giant at wine making, and the best thing is that they don't produce low quality wines even if they produce thousands and thousands of bottles. Back at the visitor's center, we went to their museum where Torres' company history and artifacts were kept.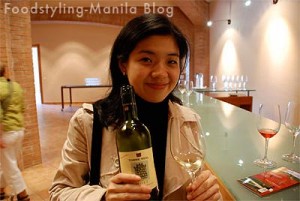 Then we were treated to their limited edition, not-for-sale, Torre Real Most Grape Juice. It was the best grape juice I've ever had in my life! They give it to children who take the tour of the winery (starting them young, hehe).
Mas Rabell
From Pacs, we went to the famous Mas Rabell, a private restaurant run by Torres to treat special clients and the Torres family's guests. We were treated with a tasting of Gran Viña Sol, Santa Digna Sauvignon Blanc Chile, Marimar Estate Chardonnay, San Valentin Garnacha Tinto, Gran Sangre de Toro, Waltraub Riesling, Mas Borras Pinot Noir, Gran Coronas, Cordillera, Salmos, Mas La Plana….where I had a hard time focusing by the 6th glass because I refused to spit out the wine.
One thing about tasting wines is that you must have a strong "scent memory" repository floating around in your head to be able to give a good description of wines. Describing wine is personal; your brain connects the scents and tastes with your memory. I realized now why we would have a sensory evaluation before our wine seminars while I was still studying at CACS: it was so your brain could connect the different scents to the names (because sometimes you can only think of, "this smells familiar, I'm just not sure what it is"). This scent and taste memory also helps you tell which ones you like and don't like. For instance, I have a very strong aversion to wines that smell and taste like leather (yes, leather) but my dad doesn't seem to have a problem with it. Anyway, by this time, I was learning that some wines taste great but have a very subtle bouquet, and some wines don't taste so great but have a very, very strong bouquet.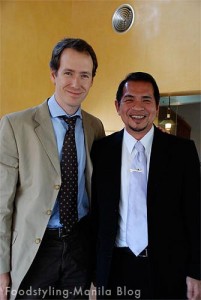 We wrote our notes down and ate lunch after. Of course, our lunch was paired off with the very good wines all the way till dessert.
The next day we spent shooting at Mas Rabell (yes, I was a camerawoman and kitchen assistant for Gene's Cuisine in this trip) and during the shoot, dad and I went grape picking! There is a library of the different grape varieties of the world in Mas Rabell's garden. And because it was harvest season, the vines were filled with all these wonderful grapes. And the best part was we could pick and taste all we want!
Jean Leon
After shooting at Mas Rabell, we went on a short trip to the Jean Leon winery. Jean Leon was a Hollywood personality who was friends with all the stars because of his famous restaurant La Scala. Because of his perfectionist nature, he built the Jean Leon winery to produce wines exclusive to his restaurant. He was the first man to plant French grape varieties coming from very good French vineyards in Spain, which was a no-no during those days (people strictly adhered to the country's native strains to make wine).
Because it is a small vineyard, their price range is much higher because they only produce a small number of wines each year. This small quiet vineyard produces a very fragrant and friendly wine called Terra Sola, which seems to be the type of wine that can be enjoyed by a wider range of people. Terra Sola wines differ each year because the winemaker decides which grape varieties to mix.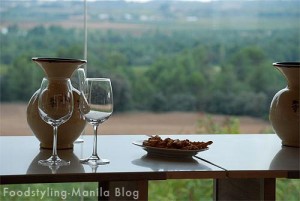 Looking at this very modern and quiet winery, I found that the Jean Leon vineyard boasts of the different plants and animals that can be found in the vineyard like olives, almonds and oranges. Which brings me to another thing I learned about wine: the environment. In knowing what else aside from grapes grow in the vineyard, you can get an idea of how the wine may taste or smell like because it may have traces of the vineyard's terrain.
Brandy Tasting
10 am is a little too far from Happy hour for me, but this is how early we started trying out the brandies at the Torres Distillery.
The Spanish hearthrob of brandy, Toni Gonzalez, took us to the distillery and bodega to have a quick crash course on brandy. Entering the distillery reminded me of those old train stations you see in the movies. There were large bronze vats with vapor coming out from the top. This is where the wine would turn into alcohol thru distillation happens. At the bottom of this distillation vat was a spout, where the slightly translucent alcohol product called flemmes would come out. Yes, I reached for my glass and decided to try this raw alcohol for myself. It was raw, and harsh (it reminded me of the lighter fluid-cheap alcohol I used to down a few summers ago) and it smelled like damp alamang straight out of the market (dad didn't think it smelled like alamang at all). After a second distillation, the alcohol is aged in barrels to make brandy.
Apparently, there are 2 ways of making brandy, the solera (where the alcohol aged in barrels will be mixed) or the static (the French system where nothing is mixed, the alcohol stays in one barrel). We tasted the different Torres brandies (Torres 5, 10, 20 and the Jaime Primero) along with smelling or biting off chunks of chocolate, coconut, cinnamon, dates, cigar to see which fit and which brandies contain traces of these items. And it was incredible, I realized that good brandy isn't the type you just down with a chaser (tungga would be a better word), it is something you sip and enjoy.
It was a good thing I ate enough breakfast before after our table tasting, we went to the bodegas to steal brandy off the barrels (I refused to spit out the brandy again hehe). The first one we tasted was a 136 proof, young, light yellow brandy, it was still strong on the nose and made me wheez a little after sipping. Finally I took hold of the brandy that was in the barrel since 1984. It was 105 proof but absolutely smooth. It was warm in the mouth and had a very fruity note on it. This was going to be released in 2 years as Miguel Primero, which would be the most expensive line of brandy Torres will release. After that experience, I don't think I'd like to go back to those lighter fluid spirits ever again.
Priorat
It was a long drive to the Priorat wine region. The city began to change into these little Spanish villages in between the mountains. And suddenly we would see old stone houses in the middle of vineyards. There were lots of olive trees and wild herbs everywhere. The Priorat wine region is famous for their terraced vineyards (it was like Banawe Rice Terraces only this time, instead of rice, they were all grapevines). The Carthusian monks started this terracing during the 11th century ad grw the grapes for their monastery's wines. The terracing of vineyards would cause different temperatures that affect the outcome of the grapes.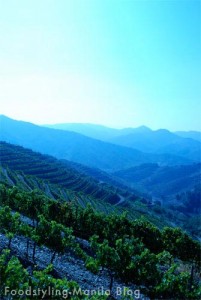 At the top of the mountain, it was cool and pleasantly sunny. We were in the middle of nowhere, but it was beautiful. The terrain was rough and the grapes thrive on the rocky ground made out slate. There was a cordoned off area where we started tasting the grapes. Apparently in this area, they cut all other grape bunches and leave just one so that all the plant's sugars will be concentrated on that bunch. It was mind-boggling. I wondered how many bottles could this small cordoned-off area produce…better yet, how much.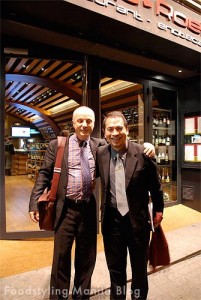 Torres created a new line specifically for this vineyard called Salmos (something we tasted in Mas Rabell a few days before)…where it's bottle showcases a picture of the terraced mountains of the Priorat.
Milmanda Castle
"I think I saw this in Meteor Garden", that was the first thing that entered my mind when I saw Milmanda. I was happy because we just had a wonderful lunch at this quaint restaurant in Hostel de Senglar and Kurt Gerard, manager of the Milmanda castle opened a bottle of Mas La Plana 1997 (which was my first favorite wine ever when I tasted it a few years ago at a dinner with my dad).
There were rows of these tall trees that were carefully planted along the roadside. The castle was not that big, but it was built to repel the Moors in the 11th century.
Now it is also a Torres visitor's center where people can learn about the great wine that comes from this castle's vineyards, namely the Grans Muralles. I also enjoyed tasting this wine while I strolled around looking at the vineyards. The grapes also grow in this harsh, rocky terrain like in Priorat but it was in fields that were as far as the eyes can see. Now I know why there are cheap wines and there are expensive ones. You don't just pay for the finished product, but you pay for the way the grapes have been grown and treated, how it was fermented and how the wine was carefully picked and made. Lastly, you pay for the experience of wine, the taste, the scent, the body and being able to enjoy it with friends.
I can just close my eyes and remember how I've experienced winemaking first hand. Although it was a pretty short trip, I can say that the people at Torres gave us the most extensive tour of their vineyards in such a short time. And despite the hectic schedules and sensory overload, everything that needed to stick, stuck…and I am now back from this trip with a better appreciation for wine-making and quality wine-drinking.