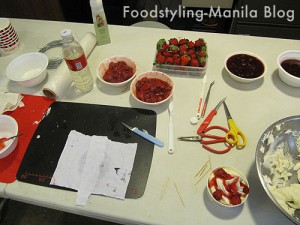 Just in time for Valentine's day, you can now have a yummy strawberry frozen yogurt at Kenny Rogers.
To be honest, soft served ice cream shoots always make my skin crawl…first, they're very, very challenging…second…you have to get the formula just right…and third, the shape. For this shoot, I had to make a fake yogurt recipe from home, and make a custom piping tip for me to resemble the tip of the ice cream machine.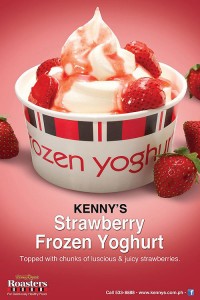 I had to make sure my formula had the same color and look as the real thing too, since in Kenny, they like to use their products as much as possible. But to have less wastage on the frozen yogurt, and to buy the photographer and me some valueable time and better choices, we decided to do faux. Piping is tricky and will have to be practiced, but when you find a comfy formula and practiced enough prior to the shoot, you'll be more comfortable with it.
Still, we used the strawberries and the syrup found in the stores and they photograph beautifully. I'm wondering if this item will be a seasonal special because its just a lovely flavor.