Since I haven't updated my blog in a very long time, I have missed writing about quite a lot of "food milestones" that is pretty much a shame. I was inducted into the Chaine des Rotisseurs about two years ago and eating specially made meals in awesome restaurants is really the biggest perk (aside from talking about food and more food with your seatmates). Forgive my writing today, I am a bit rusty!
For this dinner, we went to Mecha Uma, one of the hottest restaurants in Manila at the moment which features Chef Bruce's creativity in fusing together ingredients. I keep hearing good stories about Mecha Uma and I was really excited about what was in store for the night.
Chef Bruce Ricketts has a tiny showcase kitchen, where most of the preps and dispatches are done in front of the customers sitting by the bar. It's too bad we were seated by the post. But we're here for the food and the wines that each of the members brought.
Here is what we had:
Peach. White Chocolate, Sake, Cucumber
This was a creamy cool surprise. With this first dish, I already knew what Chef Bruce's food was all about: heaps of textures, subtle but delightful flavors, and the heightened appreciation for one-spoon food. You have to put the whole thing in your mouth (or atleast half in my case with the sauce going all over my face) to be able to experience the play of flavors and textures. The peach gave a very flowery and delicate flavor which went well with the creamy white chocolate. The sake and cucumber finished it off by cleansing the palate and getting it ready for the next course.
Tuna. Coconut Cookie, Peppercorn and Soy Sauce
This one was just surprising. The mix of flavors worked like you were on a beach somewhere relaxing and eating fresh fish and drinking a piña colada (yes it reminded me of that!). This was a tender tuna marinated in a subtle sweet soy glaze with some red peppercorns for the kick. It was crunchy and dry outside, with a soft and moist texture inside and the coconut was pretty much pronounced but it surprisingly went well with the tuna and soy.
Scallop. Zuke Marinated, Pico de Gallo, Avocado
This reminded me of a weird and airy taco. The deep fried nori was bubbly and reminded me of a thin prawn cracker. When you bit into the airy and crisp nori, you immediately also bite into the scallop which was firm and chewy and the salsa which was tangy and the guacamole which made it creamy. The dill was there to complement the scallop.
Octopus. Citrus, Coconut, Mung Bean, Plantain
Now this dish, really got my attention. The sauce was made from the milk of a burnt coconut and Matsusaka beef fat which imparts a mouth-coating richness and smoke. You will find that the citrus provides an lovely tang and refreshing texture which cuts the fat. The fried sweetened monggo is a nice crisp touch and the mung bean and plantain puree makes it rich and yet cuts the flavor. The octopus was there for texture and to put it all together.
Oyster. Potato, Sudachi, Asparagus
I enjoyed this little hash with a surprise of fresh tender oyster inside.  After biting into the potato hash which feels stretchy and a bit like a deep fried oyster cake, you taste the sea from the tender, fresh and decadent oyster and a bit of spinach hiding inside. The dressing is tangy which cuts the richness of the oyster.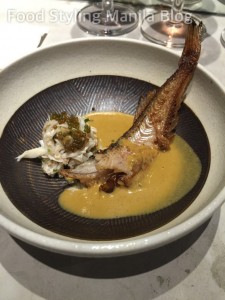 Hata Hata. Whole Roasted Crab, Sauce of Fish Bones and Sea Urchin.
Hata Hata from research is called a God fish, but the texture is much like a Chilean seabass and scallop, white firm flesh. The sauce is a lovely sea urchin and yuzu sauce which go perfectly with both the fish and the crab. Some of the diners found this salty, they probably got an unlucky part, mine was great.
Pigeon. Eggplant, Watermelon, Sauce of Sherry.
I really enjoyed this dish even if it looked a little frightening. The rich, soft and tender pigeon had a gamey flavor, with a sweetish soy-squid ink dressing.  I enjoyed the the flavors together especially because it had small slices of seared foie gras.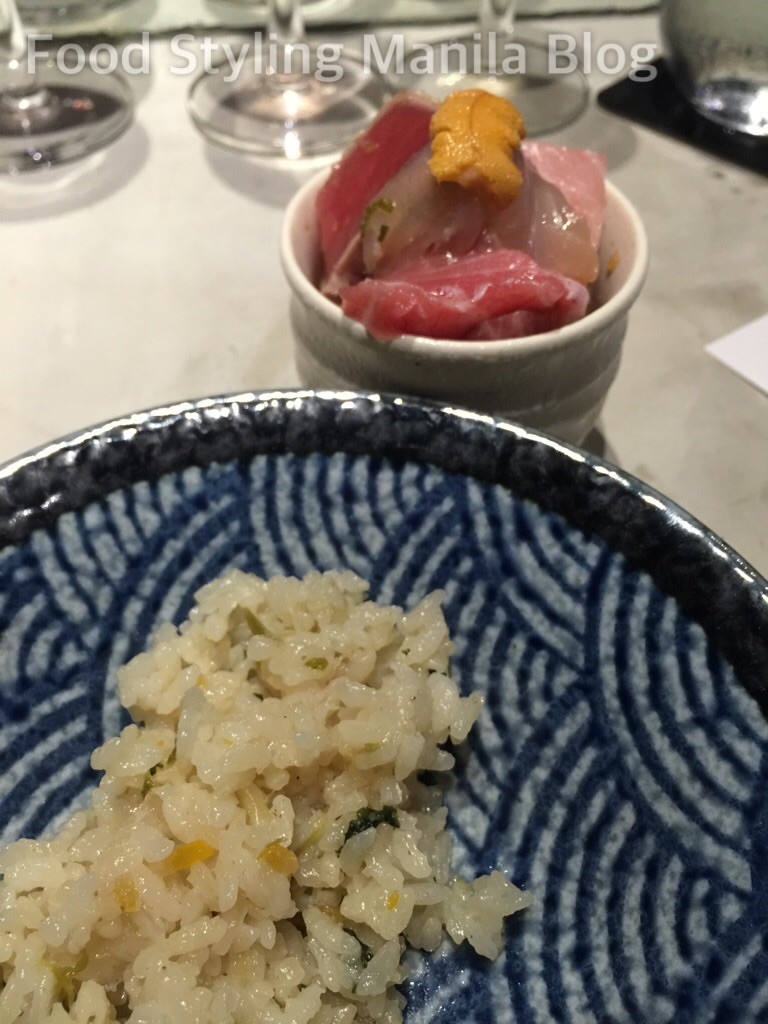 Rice. Sashimi, Koshihikari, Wasabi Stems, Yuzu Skin
And who can possibly not enjoy prime cuts? My favorite "chirashi" intepreted differently using my favorite sashimi..what is not to love? The sashimi that was served in this dish was absolutely perfect.
It was exactly what chef Bruce explained. It felt like I was right in front of the fresh seafood munching on flavored rice and the fish right after it has been fabricated at its freshest state. The rice was warm with yuzu and was cooked in fish bone broth.
Matsusaka Gyu. Shiso, Cabrales
After all the good stuff we ate, this could've been a little forgettable, but it was a good experience altogether. I guess I just had so much expectation for this piece of Matsusaka beef. Though with the foie gras and cheese, the flavor of the beef hardly stood out and I only got a fatty coating. I'm not really sure they were aiming for this, I am not sure if mine was a lemon considering the amount of people they needed to serve all the same time.
Dessert.
I kind of had an inkling that chef Bruce wasn't much of a dessert kind of guy and I guess I was right. Dessert was a lovely idea wise — coconut cream and lavender with yuzu flavors, the textures were also there. But it was just overly sweet for me.
Overall I enjoyed that dinner very much and I am surely going back to Mecha Uma on a normal day. I would like to try their other items and sit on the bar with the best view. 🙂