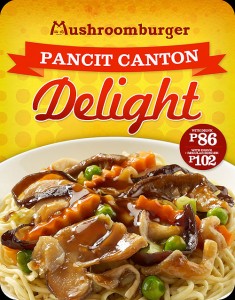 I've been so caught up with work lately that I completely forgot to update my blog. So far, I've been working on multiple projects which we will hopefully see published in the next few months. For now, my life has been centered either behind the camera, in the kitchen, or behind my laptop in the school. It's been quite a crazy month trying to balance everything but finally I see some projects being published and I'm pretty happy with the outcome (and so are my clients). Mushroom Burger is currently updating their look for their stores and menu boards and will be coming out with new products soon.
For now, they've been making waves of changes by putting up the images we worked on late last year. Mushroom burger doesn't only serve sandwiches, they also have a lot of other dishes like spaghetti, pancit and rice meals, desserts which we all took time to shoot to achieve the central look (it's always best to just have the same people working on your project to make sure standards are kept).
Since the pegs were major fast foods, the styling had to keep up. Everything had to be carefully made from the ingredients they had given me (except of course, the fake soft serve which is a different story). For the spaghetti, I needed to make those little curls in the side ala old school to achieve the super commercial look.
As for the soft served, it was literally a pain! The twirly took about an hour to perfect to get those perfect swirls…and I think it took about 8 – 9 really good ones for them to pick out which they wanted. The trick with soft serve is practice, practice, practice, when you have a good formula that you can work on. Admittedly, my formula has changed drastically from my first soft serve job to today…it took 2 years for me to experiment on a good recipe that I can actually do by feel.
As for the approval and art direction, the team at mushroom burger along with Allan Tuazon, our photographer, gave their ideas for every dish…it made the shoot slower but the outcome was totally awesome. I think that is the major difference between the upcoming editorial look to the solid commercial look…when it all comes down to it, there is still a standard of perfection in the client's minds that we have to reproduce, and this standard was made by food stylists from long ago…from the film age when you only had one really good shot rather than a lot of options, so things had to be crystal clear. Though the editorial look is now softening a lot of major fast food's menu boards, they cannot really veer too far away from what people are used to and what the standards were.
At the end of this shoot I was actually so proud of the team that took pains to make sure each and every detail was attended to… It was a gut wrenching week-long shoot but when I saw these photos, my jaw dropped, I couldn't believe that I was part of this production. Can't wait to see more of their new product pictures!