Bag of Beans is a dog-friendly and is a garden restaurant that reminds me of those outdoor garden parties we used to have in the old house.
I loved the little nooks, the huts and the garden chairs and tables but you do need some bug lotion if you're planning to stick around here in shorts or a skirt. It's a very laid back hangout conducive to eating and talking. Here's what we had:
I ordered a Steak and Kidney Pie and and I remember my grandunlce, Bro. Andrew Gonzalez, who totally loves the dish. It took a while for the wait but we were really busy admiring the ambiance and enjoying the conversation anyway. The pie came in all it's lovely golden brown glory. The crust was pretty and brushed with an eggwash to make it look golden. The steak was nice and soft and the kidneys had a very slight hint of game-yness. The stewing liquid was also delightful, it had a really good steak flavor. The pie dough, was not really that flakey, it had a slight crispness when I bit into it right after it was served.  Kidneys were very clean tasting which was very interest. It must've taken the kitchen a very long time to properly wash and clean the kidneys for it to get to this immaculate state (and I've cleaned kidneys so many times).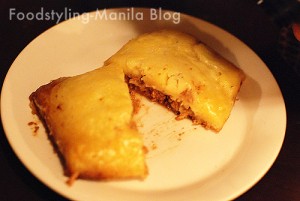 Shepherds pie is basically some ground beef and mashed potato on top. The mashed potato was slightly brushed with an eggwash to resemble a dough. The ground beef was simply seasoned. It was pretty good especially when we ordered their "gravy" on the side.
Order the "Gravy" on the side because it was made of some very honest to goodness beef trimmings and made it into a au jus type sauce. It was just slightly thickened with starch and seemed to be a gathering of the lovely drippings from their roasts from the components of the pies.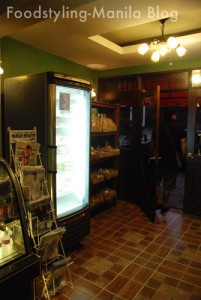 After our meal, we looked around the organic bath and body items they were selling. We also bought some goat cream cheese from their store upstairs. Bag of Beans really is a relaxing place and I hope to come back and eat their other dishes.