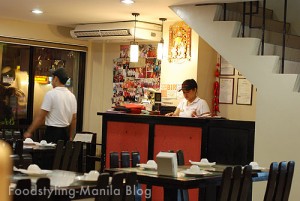 I've been super craving for Mien San the past month since we decided to try something else and ended up a bit disappointed the last time. I'm really, really happy that Mien San finally made decent renovations to their place since it used to be such a horror experience to eat there, the only reason we really did was because the food was good. Now, Mien San is a big, bright and clean place with lots of seating. So happy they renovated! So here was our roster of food for the night:
Adobo Goto (P88)
I love how the sauce was full of  different flavors, not just soy sauce. The goto (or tripe) wass firm but tender enough. Sauce included is a little sour salty and sweet mixture that was addicting.
Their hot sauce had a very fresh flavor, like freshly chopped chilies and boy, was it hot. The flavor also has a flowery note and a burning hot finish.
Adobo Porkchop Bento
which was served on Rice with an Egg omelette with some spring onions and leeks on the side. The porkchop actually had a beefy taste and texture which was really weird. The sauce is strong- sweet salty garlicky almost like a stewed steak ala pobre.
Adobo Pata
Obviously, I got this dish. Itnhas the same base sauce of the porkchop. Knuckle is tender and gelatinous. Also served with egg, corn mix and pechay. Wasn't so happy about the fact that both had the exact same base sauces…but I guess there is only 1 base sauce for an adobo in every restaurant.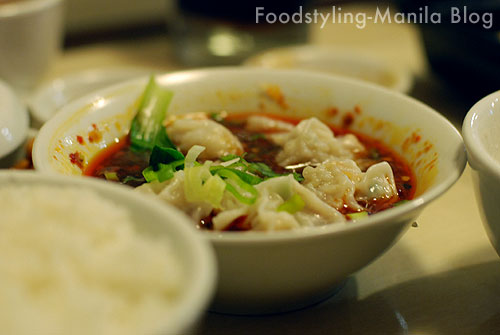 Spicy Wanton
Is my super favorite, and it hasn't changed a bit since I was younger. The sauce was spicy with a fragrant sourness to it. It was also garlicky but light, and I loved the slippery and tender skin that encased the pork ball.
Always a pleasure to eat in Mien San. 🙂
Mien San Noodle House is along Gilmore Street and near Santolan.