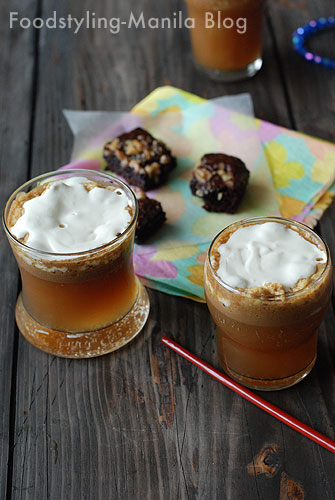 I wasn't quite sure how many adults would actually try my butter beer concoction so I decided to make one for kids as well. Again, this is my version using local stuff, no this is not the original butter beer of JK Rowling…just a delicious interpretation.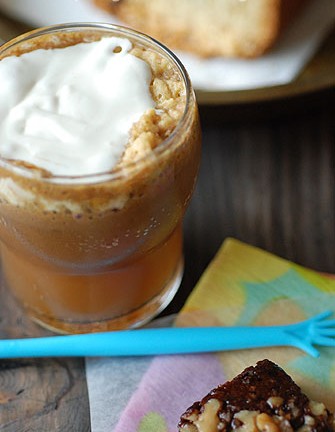 What's funny about this version is that you can hardly see the difference of the alcoholic version (my previous post) and this one. They look exactly alike, but taste quite different. I just made use of what I had at home and basically, I veered away from all the internet posts that say I should use Cream Soda (I would think that cream soda is sweet enough as it is!). For a kiddie themed snack, you can use a chopstick as a wand/stirrer…cute right?
Butter Beer for Little Wizards!
1/2 cup packed brown sugar
1/3 cup butter, salted, softened
1/3 cup heavy cream, room temperature
1 tbsp honey or syrup like maple syrup (this will prevent our sauce from hardening)
1/2 tsp salt
2 Cans of Cali Shandy Pineapple Soda
Topping:
1/2 cup cream, cold for whipping
3 tbsp powdered sugar (optional)
1) Make the butterscotch sauce: In a non stick pan over medium heat, add the sugar until the edges begin to melt. Add the butter and mix well until it begins to get thick. Add the honey/syrup and mix well. Lower the heat and add the cream. Let thicken over a low simmer (about 2-3 minutes).
2) For the topping, beat the cream with the whisk and add the powdered sugar. Keep in the fridge until ready to use.
3) Make the butter beer! Pour 1 cup of the pineapple soda into a glass pitcher, making sure it doesn't foam up. Get 14 Tbsp of butterscotch sauce and mix it with about 1 cup of soda. When the mixture is mixed thoroughly, you can now slowly add the remaining cans of soda into the pitcher. Pour the drink into mugs and top with the whipped cream.
Enjoy!